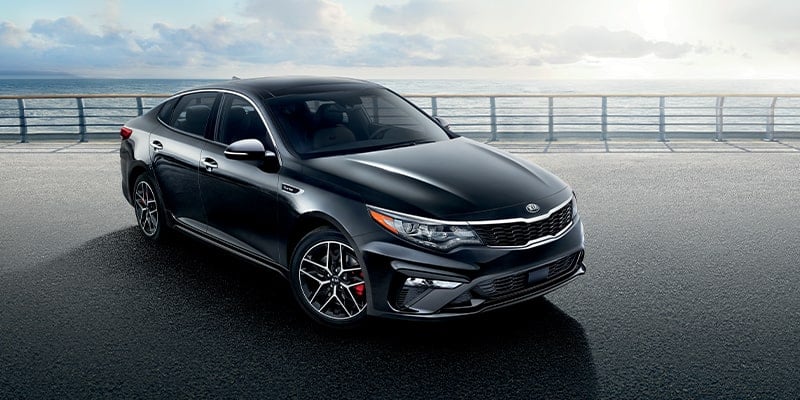 2021 Kia Optima
Are you waiting to buy a vehicle until you find the best option for you? When you come to Kia of Alliance, we believe we have found the perfect model for you. Kia has recently released details on the 2021 Kia Optima, and we want to pass along the information. As we all wait for this model to join our collection of cars for sale, we can share our excitement! With a design that evokes both sportiness and luxury, it has proven itself to be a legitimate head-turner! The interior is elegant and brimming with high-tech features such as the digital gauge cluster and ambient lighting. The Kia Optima for sale is particularly entertaining to drive, thanks to a powertrain that provides a refined experience. A spacious back seat and generously sized trunk are useful for the passengers and luggage that you have.
Kia completely remodeled the Optima for 2021, with a bold style exterior and a truly luxurious interior. The exterior comes in some beautiful colors as well that we wanted to note! The Kia Optima colors are Gravity Gray, Passion Red, Sangria, Sparkling Silver, Snow White Pearl, Ebony Black, and Horizon Blue. You get to pick the color that perfectly reflects your style and personality. Even though it's not confirmed, this fifth-generation Optima could be available with All-Wheel Drive (AWD) for the first time!
Kia Optima for Sale
The 2021 version isn't expected to go on sale at your local dealership until the second half of 2020. But we all know that it will be well worth the wait for these excellent Kia Optima trim levels to arrive. Kia also hasn't talked about how much the car will cost, but we are excited to help you pick the right Kia Optima trim level for your lifestyle and budget. There is no doubt that this sedan model will keep you safe and on the road for years to come. No matter what kind of planned trips or spontaneous adventures that you want to take, you will get to your destination. Complete with excellent gas mileage and technology updates. The 2021 Kia Optima is outfitted with a 10.3-inch screen for information and entertainment. It is enclosed in a large piano-black bezel that houses the car's fully digital gauge cluster as well. While the details do include a volume knob and physical buttons on the steering wheel, the rest of its controls are touch-sensitive. Along with the Apple CarPlay and Android Auto integration systems, the Optima will have a 12-speaker Bose audio system to hear your favorite music.
You can come to Kia of Alliance to find out more about this new 2021 vehicle. Our expert sales team has the experience and knowledge that you need to make a decision about this car. We are open Monday through Sunday to answer any questions that you may have. Our staff is prepared with the information that you need to make a well-informed decision about the trim level that is right for you.