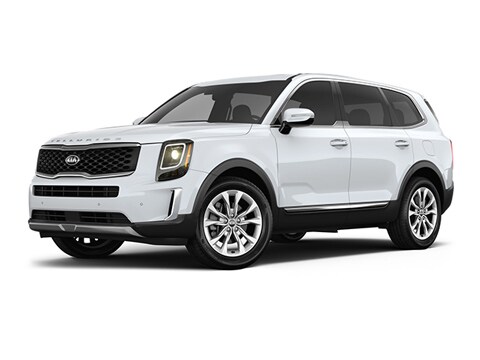 Kia Telluride
When you decide that it is time for you and your family to upgrade to a reliable vehicle, you will not feel happier. Picking a car that will serve your needs and keep all your passengers safe will give you so much peace of mind! It's incredible how one purchase can make such a huge difference in your everyday life. At Kia of Alliance, your family is our focus. We will focus on the big and small details that give you and your family the confidence they need to take on the road! It doesn't matter if you are traveling for the holidays or going grocery shopping across town, we have new models with Kia Telluride color options.
This is a 2020 release of the popular Kia SUV that will give you everything! It is ahead of the pack in every sense of the term. You will find everything from great mechanics to an excellent interior Kia Telluride. At Kia, we give everything to our vehicles in the building process so that you can do everything you need to do. This Kia Telluride performance can prove it too because it's been named Motor Trends 2020 SUV of the Year! That is a pretty big step for the family vehicle industry. You shouldn't have to settle on performance, space, or efficiency. We know that the Telluride is packed with features that you need for life's greatest adventures!
Kia Telluride Color Options
The true colors of the Kia Telluride for sale come with real exceptional handling, powerful performance, and signature Kia technology. All this has been integrated because we want you to get everything out of it that you can! For example, the driver's cockpit allows you to take command of the road. Both front seats are reclining captains' chairs that slide forward at the touch of a button. There is also a 10.25" touchscreen display for you to operate the navigation, Apple CarPlay, and more. The driver of this Kia Telluride won't be the only person getting to enjoy modern technology. Rear passengers are able to enjoy the dual sunroofs and USB ports near them.
The Kia Telluride seating got it right if you have been looking for a vehicle that gives every passenger space to relax and stretch out. There is plenty of extra leg- and headroom in this SUV because of the careful way it was put together. We know that having a car that represents you and your style gives you confidence. That is why we have added to our selection of Kia Telluride exterior colors. You will get to choose from an extensive array of new Kia SUV Telluride colors! You need to pick from the selection of Kia Telluride color options that best shows off your personality to the world outside.
If you crave to be in sync with your vehicle, Kia has created a system to help you. Kia's team has created UVO link services that let you connect to specific features of your Telluride remotely. You will be able to unlock and lock the doors to your Telluride, as you approach it with your phone.