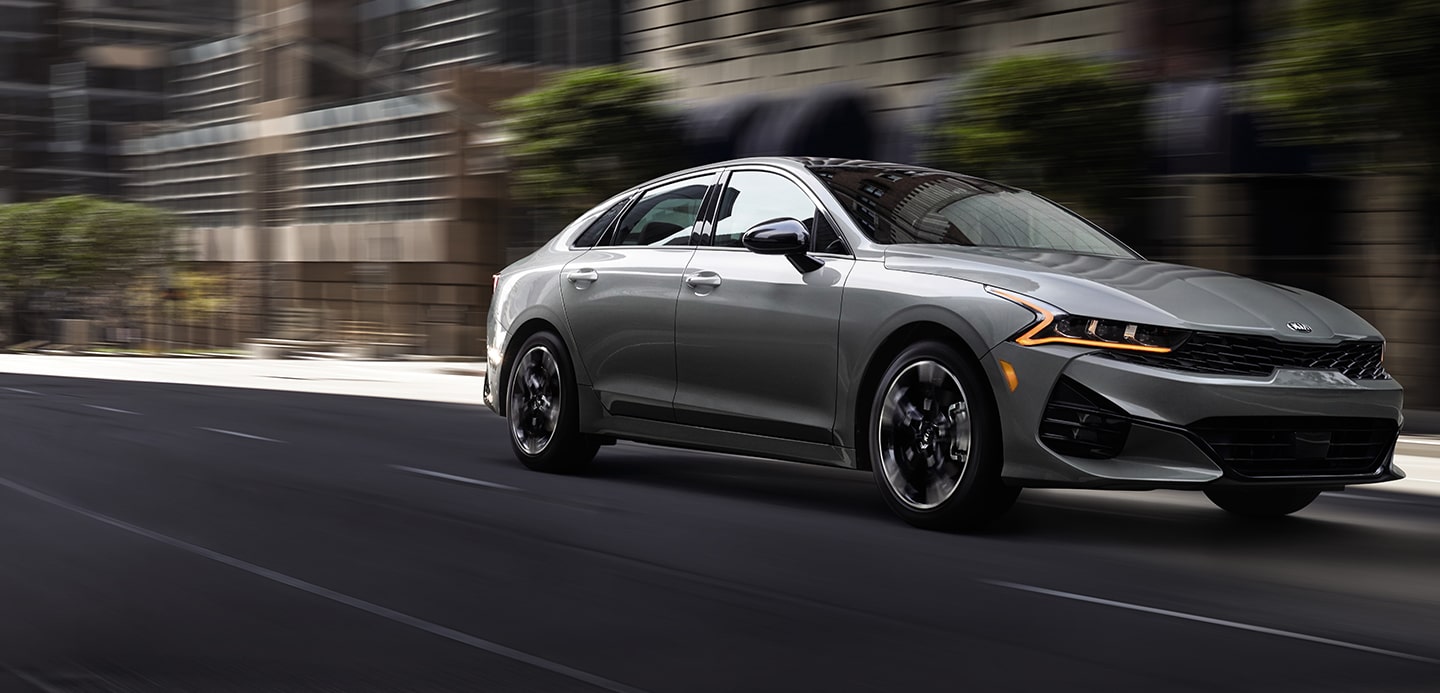 The All-New 2021 Kia K5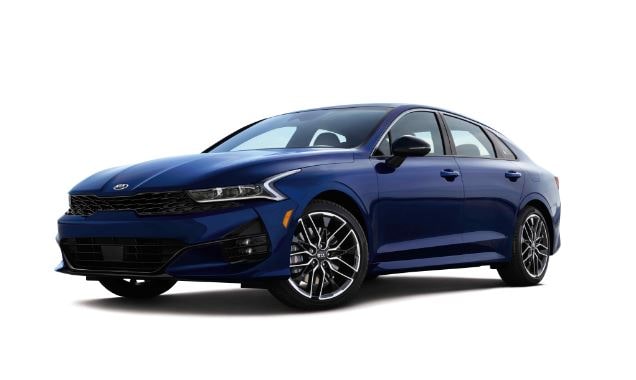 Are you looking for a sublime new Kia car for sale? If you have been interested in finding an outstanding sedan for sale at our Kia dealership in Ohio, you are going to want to take a closer look at the gorgeous new Kia K5 for sale. The 2021 Kia K5 will soon be available at our Kia dealer near you, and we believe that it will win hearts across the country.
To begin, the Kia K5 for sale is absolutely beautiful to behold. The dramatic styling is sure to turn heads and inspire envy wherever you drive. Taking its basic design cues from the beloved Kia Optima, the Kia K5 for sale elevates the classic design to a new level. You will notice some innovative elements to the 2021 Kia K5, starting with the nose. The grille of this Kia car for sale draws its inspiration from sharkskin. The nose of the Kia K5 is just the tip of the iceberg, as the modern design extends to every element of the vehicle. You will notice the fluid, dynamic silhouette of the Kia K5 extends longer than the Optima. This extra space in the Kia car for sale is made possible by the new platform on which it was built.
For the first time ever, Kia is making use of the innovative N3 platform, and the results are dazzling! You'll see a lower height, less front overhang, and an elongated hood compared to its predecessor. These changes are made possible without compromising interior space by using the N3 platform. The 2021 Kia K5 sports an overall athletic and muscular appearance. You are certain to appreciate all of the striking accents on the 2021 Kia K5, including new headlamps and taillights reminiscent of an EKG monitor. Our Kia dealer near you can't wait to introduce this stunning new vehicle to our loyal customers.
Contact Us to Learn More
Performance
The illustrious Kia K5 for sale has much more to offer than its dramatic good looks, however! You will enjoy enhanced ride quality in the 2021 Kia K5 thanks to the new and improved N3 platform. This platform will support a new lineup of engine options for the all-new 2021 Kia K5 at our Kia dealership in Ohio. The first iteration of the 2021 Kia K5 available at dealerships will be powered by a 1.6 liter, turbocharged GDI four-cylinder engine. This powertrain will be paired with an eight-speed automatic transmission, and it will give the driver a horsepower of 180 and 195 lb/ft of torque.
During its creation, making the Kia K5 for sale an enjoyable vehicle to drive was one of the top priorities. The manufacturers also wanted to make the Kia K5 for sale a suitable selection for customers who live in areas that experience inclement weather. That's why the 2021 Kia K5 has been outfitted with many driver safety aids. Kia wanted to make the Kia K5 a practical choice for all customers, no matter where they live. You will find that the Kia K5 for sale offers a special all-wheel-drive system, which will allow you to get through unpredictable terrain without sacrificing control.
There will be a snow mode, which will deliver torque automatically only to the wheels that need it. This intuitive system lets you focus on driving your car through the difficult weather. After the 1.6-liter turbocharged four-cylinder Kia K5 is released, there will be more powertrains to follow. The next will be a 2.5 liter turbocharged GDI four-cylinder engine that puts out a horsepower of 290, and 311 lb/ft of torque. This engine choice will reach Kia dealers near you later in the year.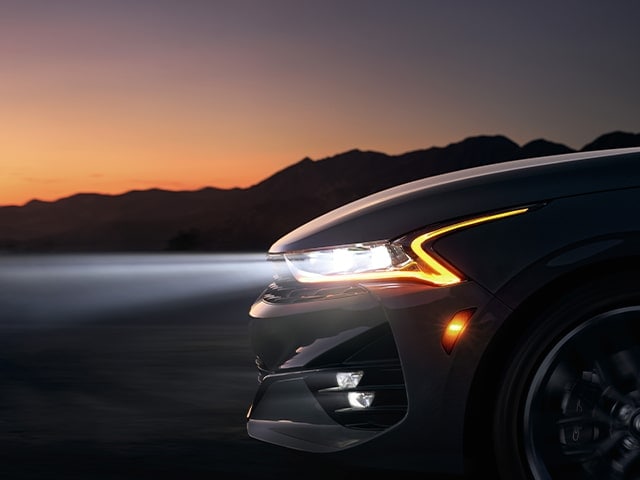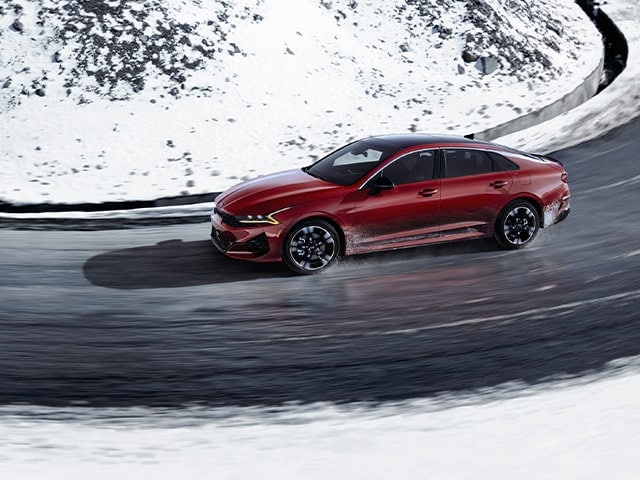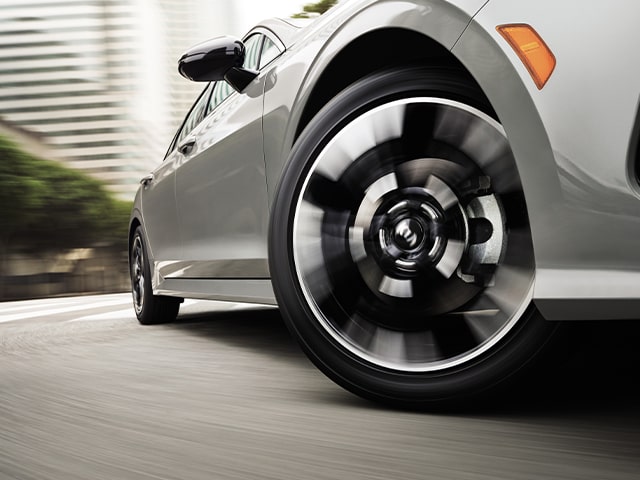 K5 Trim Levels
There are going to be five different Kia K5 trim levels available for you to select from at our Ohio Kia dealership. The Kia K5 trim levels will be the LX, LXS, GT-Line, EX, and GT. Each different Kia K5 trim level will bring a unique combination of amenities and features to the table. Even the most selective customers will be able to find a 2021 Kia K5 trim level that is just right for their needs at Kia of Alliance. You will be able to choose a Kia K5 that provides you with the features that are important to you, without forcing you to pay extra for amenities that you know you will not use.
As far as the available 2021 Kia K5 colors are concerned, we know that you are going to adore your options! There are six different 2021 Kia K5 colors available, but your choices may hinge on which Kia K5 trim level you select. For more information on this outstanding new Kia model, just reach out to your friends at Kia of Alliance. We look forward to helping you choose a Kia K5 for sale that is perfectly suited to your unique needs at our Kia dealership near you.